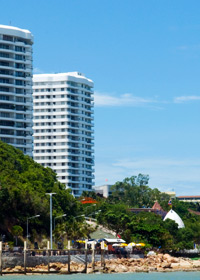 It should come as no spurise that there are more than 30 property developments currently taking place or waiting for approval in Phuket alone. These range from hotels to apartments and luxury villas.
Buying in Phuket in years to come would come at a very high premium as the costs are always rising with the availability of land becoming an issue. There are currently about 37 projects in the pipeline for this year alone. Who said that Phuket would go as flat as Spain?
Here is a quick view of property developments in the pipeline in Phuket today:
Surin Estate Condominiums (157 rooms) at Surin beach.
The Lofts Resort at Laguna Phuket (95 rooms)
Miracle Lake View (39 plots) at Chaofa Road West
Supalai View (184 plots) Pa Klok, Thalang
Dala Resort (202 rooms) Bang Tao beach
Spectrum (44 rooms) at Cherng Thalay
Mai Khao Dream Resort and Spa (22 villas) at Mai Khao
Chalong Interview Condominium (72 rooms) at Rawai
Baan Prapatsorn (76 plots) at Thalad Yai, Phuket City
Four-storey building (27 rooms) at Kathu
Litte Mermaid (40 rooms) at Karon
Jhomtong (22 rooms) at Wichit, Phuket City
Rompattana (21 rooms) at Wichit, Phuket City
Three-storey building (38 rooms) at Rassada
Juntamas Hotel (56 rooms) in Phuket City
The Cape Estates (17 houses) at Patong
Sun Peung Condo (64 rooms) at Patong
Romsowan Apartments (26 rooms) at Patong
Vises Hotel (79 rooms) at Patong
Neptuna Hotel (79 rooms) at Patong
Four-storey building (16 rooms) at Phuket City
Thawasin Place (79 rooms) at Rassada
Prompan Condotel (78 rooms) at Rassada
Prateep Project (69 rooms) at Kathu
Three-storey building (19 rooms) at Kathu
Sai Tong-Na Yai (30 plots) at Chalong
Kata Rocks (30 rooms) at Karon
Silver Palm Rawai project (51 rooms) at Rawai
Patcha Resort and Hotel ( 61 rooms) at Kamala
Kata Rocks (30 rooms) at Karon
From the listed projects it is clear that most of them are very large developmental projects. The question reamins only how high property prices in Phuket will go at the current rate of increase.