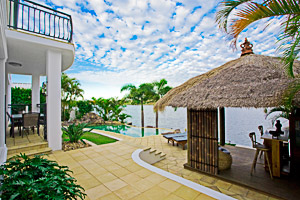 Luxury Villa prices are still rising in Phuket even though the property market worldwide has been flat. This comes as no real suprise to those of us who own property be it a luxury villa in Phuket.
Buying a villa in Phuket is one of the best investment one can make. There rules and limitations within Thai property law, however you need to speak to an attorney who can provide you with guidance in this regards. Villa prices in Phuket are still steep and climbing despite the flat global property market.
supply and demand fundamentals for the high end are continuing to strengthen given that excess supply is being absorbed, while macro issues are restricting demand for new product launches. While market recovery prospects are being set back to 2011, there has continued to be a gradual upswing in activity, driven primarily by earlier than anticipated momentum in many of the financial source markets where potential overseas buyers originate from.
The report values the existing luxury villa inventory Bt10 billion with 92 units currently on the market. Between January to June of this year 19 properties were sold, while the resale market saw over Bt1 billion in transactions. From our discussions with quantity surveyors materials such as steel are now back to levels similar to the first half of 2012 while construction volume remains low there is no expectation that pricing will drop.
That's correct. Property investments in Phuket make sense. Speak to one of our property attorneys in Phuket today!